The moment we have all been waiting for finally happened. The Friends' cast got together again for a final reunion episode 17 years later. Jennifer Aniston (Rachel), Courteney Cox (Monica), Lisa Kudrow (Phoebe), Matt LeBlanc (Joey), Matthew Perry (Chandler) and David Schwimmer (Ross) reminisced about their time shooting the sitcom.
Talking about nostalgia, we've been seeing a rise of the 90's and early 2000'strend. What better way to reminisce than to look at the iconic fashion moments of Friends (1994-2004) ?
"The One Where No One's Ready"
Ross arrives at Monica's and Rachel's apartment only to find out that nobody's dressed for his work event. This episode revolves around Rachel not finding anything to wear, creating more pressure for Ross and arguments between the couple. In the end, she shows up in this elegant commando dress, and has Ross stunned. Can we agree that this moment was worth the wait?
"The One On The Last Night"
This is the episode capturing the end of Rachel and Monica's time together as roommates.
Phoebe wore a chic black button down dress and paired it with a white turtle neck underneath. The choice of colors and simple outfit was certainly different than her usual colorful and bohemian looks, but she surely pulled this off.
"The One With Ross's Wedding"
This was hands-down one of the most intense episodes of Friends, with many things happening at once. Phoebe tries to help Rachel deal with her feelings for Ross who will soon get married to Emily. Suddenly, an unexpected incident event occurs and changes the entire plan.
Not only was the storyline captivating, but Monica's red slip-on gown caught my eyes! The fancy dress was paired with a laid-back and 90's famous up-do, creating an effortless impression.
"The One With The Thumb"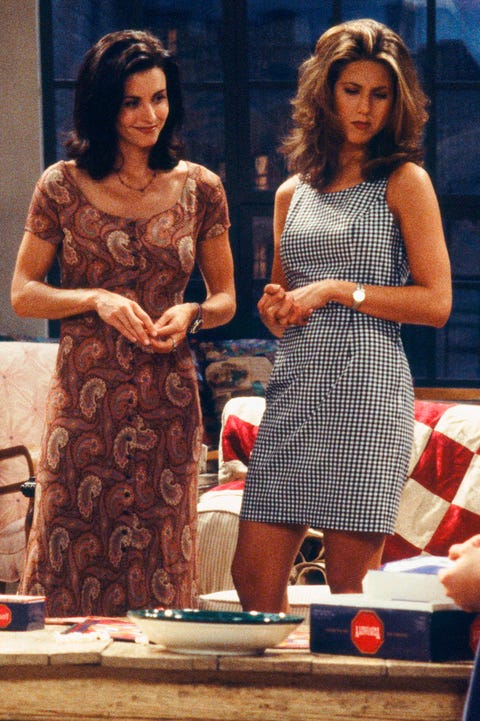 Monica feels pressured when everyone likes her new boyfriend more than she does. Phoebe receives $7000 after finding a thumb in her can of soda, and Chandler resumes his smoking habit. An odd and highly imaginative episode indeed.
Rachel Green pulls off this gingham school dress that you can't escape on TikTok and Instagram lately. Monica, on the other hand, wears a simple vintage dress – perfect for a summer day. Could you name a better duo of opposites?
"The One With The Butt"
The episode where Joey lands a huge film role: Al Pacino's butt double. Chandler enjoys a relationship with a woman but is wants none of the of responsibilities and commitments.
Phoebe, as always, pulled off a bohemian-chic look, or what it often called "festival" style today. She's all about long floaty skirts and dresses, eccentric outerwear and jewelry, as well as layering multiple pieces together.
"The One With Chandler In A Box"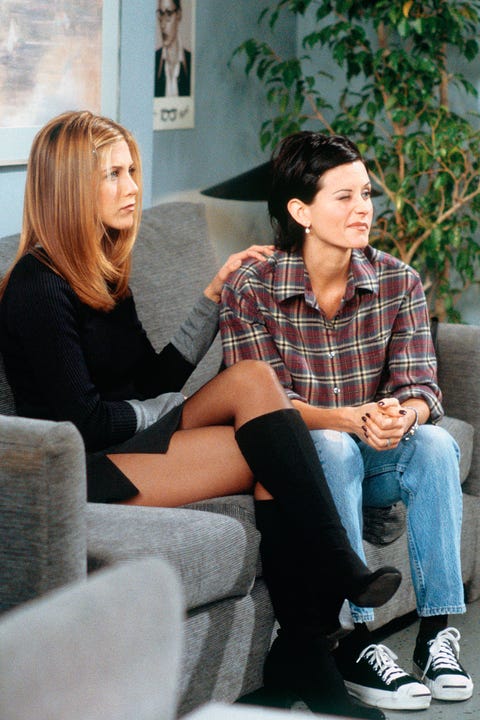 Joey finds out that Chandler had kissed his girlfriend. To earn his forgiveness, Chandler has to lock himself up in a wooden box for six hors. Monica accidentally gets ice in her eye and her doctor turns out to be her ex Richard's son.
Here, Monica wears denim jeans paired with a flannel and sneakers: the iconic grunge look that emerged in the 90 with the rise of rock bands like Nirvana, Pearl Jam, and Soundgarden.
Find more looks that we love in the following slideshow.